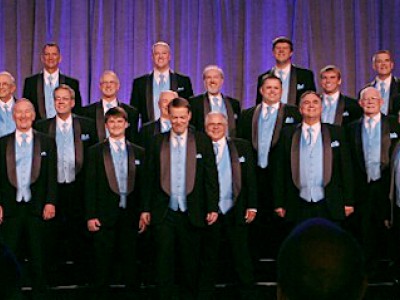 This past summer was a great time in our history in most respects. We had a very successful annual show and a repeat performance for 14,000 people at the Green Acres Baptist Church's "I Love America" Independence Day celebration. A four concert summer series rounded out a full schedule for the East Texas Men In Harmony. On October 12, The East Texas Men in Harmony competed in the 5 state Southwestern District convention at the DFW Hyatt Regency in Dallas. We are very pleased to report that our chorus placed 4th out of 48 chapters and also won the Plateau AA Chorus Championship for the entire district. Both of these placements are the highest that the ETMIH has ever scored. Our quartet, High Demand, also represented our chapter very well. They placed ninth out of 34 quartets. Way to go Lem, Jeff, Bob and John!
The downside to the Summer was a great loss to each and every one of us. Our founding music director, Dr. Stan Borum, passed away with brain cancer. This came on very suddenly and has left a big empty space in our midst and hearts. He is the person most responsible for making us become one of the best groups in the Southwest. He will be much missed.
But as always, since our inception, the good Lord has taken care of us as our needs arise. Late last spring a lady came to one of our rehearsals as a guest of a member. She made some good observations and comments and began visiting often. She soon was asked to be our coach, and then Associate Director. You will see Ms. Dianne Bottoms at future performances as our new Music Director.
Now for the Fall season. We are hard at work putting the finishing touches on our Christmas music. We will have several new songs in the package as well as some of the favorites that you want to hear every year. Our schedule is located on the "News and Events" tab on this website.
If you like to sing, we'd like to talk. The chorus is open to all men of good character who like to sing and desire to improve their vocal skills. You won't find many soloists in our group, just average guys who are willing to work to blend their voices to match the chorus sound.
We meet each Thursday night at 7:00 in the choir room at Green Acres Baptist Church, behind the large stained glass window. Reading music is not a requirement as we use learning CD's to learn the songs away from rehearsal. We then break into section rehearsals to polish and unify the sound. We are then ready to assemble the entire chorus and raise goose bumps with our wonderful blended sound. We will be distributing new 2014 music and learning CD's before we break for Christmas and now would be a great time to join in. We'll all be on the same page, so to speak.
We'd like to see you next Thursday, and we hope that you invite your friends to join you. You and your friends can read more about our chorus and our musical brotherhood on this website.